If you frequent Unreal Engine communities on social media, you've probably heard the term 'Metahuman' several times a day in addition to seeing photos and videos of people's creations. So what is '' MetaHuman Creator''?
If you frequent Unreal Engine communities on social media, you've probably heard the term 'Metahuman' several times a day. In addition to seeing photos and videos of people's creations, you may also be wondering what exactly MetaHuman Creator is.
Metahuman Creator is a tool that allows users to create highly realistic 3D human characters for use in Unreal Engine 4. The tool uses cutting-edge facial recognition technology to generate extremely lifelike faces, and users can further customize their characters by choosing from a range of hairstyles, eye colors, and skin tones.
In addition, the tool includes a clothing editor so that users can dress their characters in any outfit they like. Metahuman Creator is an incredibly powerful tool that provides users with everything they need to create realistic 3D human characters.
If you're looking to create realistic human characters for your Unreal Engine 4 projects, then MetaHuman Creator is definitely the tool for you.
What is MetaHuman Creator?
Let's dive in.
MetaHuman Creator is the world's most advanced video game character creation application!
Unreal Engine, owned by the renowned Epic Games, unveiled a new platform for digital human creation, one which everyone in the 3D computer graphics industry has only theorized about until now: a simple, browser-based Graphical User Interface (GUI) for creating high-fidelity, real-time, fully-rigged, diverse, portable, 3D human characters.
This platform changes the game at multiple levels, both from a technical and a societal standpoint, even in ways one would not expect at first glance.
It uses artificial intelligence algorithms to allow users to achieve hyper-realistic rendering. The software produces extremely detailed 3D and 2D images, the quality of which is very close to those found in the most recent video games.
Based on the analysis of millions of photos of people, MetaHuman Creator is able to identify the facial features that define a human head and he can reproduce them identically.
In addition, the software is able to create textures of extreme quality using an artificial intelligence algorithm that results in ultra-realistic textures.
This technology provides a response to all needs in terms of digital human creation, in different areas: video games, films and the development of special projects. This new software supports the company's presence in the film and video game market.
The human character creation tool, which has been in development for over three years, was designed to provide customers with a complete and reliable solution. He is able to create human characters from any image source: portrait, photo, screenshot …
Thanks to its modularity, it allows you to work on images of different resolutions, especially those from video games.
For each new head, the software defines a genealogy that ensures consistency in the features of the character, whether it is created from a photo of an actor, a capture of a 3D model or 'an image made in 3D.
The software is able to generate facial expressions from a database and define facial features with the profile and morphology of the chosen model.
Finally, the software can adapt the clothes to the morphology of the character so that they stick perfectly to his body.
How is it different?
If we compare Metahuman creator to other authoring software, what is different?
One term: machine learning.
To build a realistic representation, MetaHuman Creator uses artificial intelligence. Face mixtures give believable results, because MetaHuman Creator has analyzed millions of faces of real people to recreate a realistic face.
Chris Evans, the lead technical animator explains it like this:
"If you move something on your face, the software will search a huge database for different facial features to give you an anatomically realistic configuration."
Ready for action
It's incredible.
The virtual human creates, we can animate it immediately.
When the avatar is finished, MetaHuman Creator allows us to play pre-recorded animations from the main interface.
It's kind of a preview that makes our character move to show us his facial reaction. It is excellent for adjusting our avatar.
It's also a way of showing us that the character is immediately animable!
It is possible, because the skeleton always remains the same. Regardless of the avatar, we move the standard skeleton all the time. The movement points are placed in the same way for everyone, it allows to have standard animations for everyone.
We can therefore directly go through the motion capture without having to take care of the animation steps!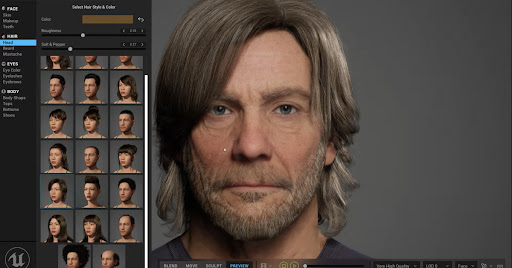 Concretely, what does that change for you?
Several things.
The door is open to many more studios than ever before, and not just to specialist studios. Now all 3d creators can make realistic human easily and quickly.
So that means cheaper too. Metahuman creator allows you to skip all the time-consuming steps! Modeling, body rigging, facial and texturing are already done!
It is now even more efficient than buying a model already made on a 3D library and in addition, you decide the head of the character. And, we create it for you!
Yesterday was long and expensive. Today, it's easy and affordable!
Here's a look at what you could do with your metahuman:
A real estate agent who shows a house;

A clone of a historical figure in a movie;

A silhouette character for a product presentation;

Characters embodied by actors, in animated footage;

A doctor in a treatment protocol video.
And it goes much further ...
End thoughts
Metahuman creator is still in initial development. Epic (the company behind the product) admits they're a small team with a lot of work ahead of them.
What they have created to date is an incredible tool.
The best aspects of Metahuman creator are the easy integration with Unreal Engine and the ease of building a photorealistic avatar, ready to animate in minutes.
It's very promising, keep an eye out for this tool!
MetaHuman Creator has the ability to change the landscape of digital marketing and how we connect with customers.
It can help businesses create a more realistic and lifelike digital human in a fraction of the time it would take with traditional methods.
While it is still in its early days, the virtual influencer industry looks to be growing. Brands and agencies are starting to see the potential for working with these digital celebrities and are beginning to experiment with this new form of advertising.
Already, brands like Prada and Louis Vuitton are using virtual influencers in their advertising campaigns, so it's only a matter of time before this type of marketing becomes more widespread.
It will be interesting to see how this trend develops over time and what impact it has on traditional marketing strategies. Have you worked with any virtual influencers? What was your experience like?
What do you think about MetaHuman Creator? Is it something you would be interested in using for your company?
If you are interested in creating a metahuman for your business, contact us!
We will take care of everything for you so that you can focus on what's important — running your business.